Memorial Location:Sale
Sale Boys' Grammar School

School Memorial

Commemorating

War Dead


Wars Commemorated

Second World War


Constructed By

Constructors Address

Trade/Occupation

Physical Description

Date Unveiled

By Whom

Original Address

Sale Boys' Grammar School,
Moss Lane, Sale

Current Address

Sale Grammar School,
Marsland Road,
Sale.  M33 3NH

Who Paid For Memorial

Who's responsible

Sale Grammar School

Their Address

Condition of Memorial

Fair

War
Names
Died
Served
&
Returned
Easy
to
Read
Anglo-Boer
WW1
WW2
1
1
No
Yes
Post WW2

Rank Included

Yes

Regt/Service

Yes

General Information

In memory of Sgt. Alan Robinson who after surviving the a/c crash,
near the small town of Büttstadt, was taken prisoner and murdered
by the German Volksturrm.
Together with the other crewmen, he was taken about 8 miles away
to Hermansdorf where they were shot "trying to escape".
Another report states that they were taken to the Police Station
at Büttstadt and afterwards shot.
Thumbnails - Click on picture to view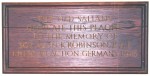 Memorial